Well, I did manage to get some work done during the start of the week cause after that it was just dripping nose and back to back headaches along with a sore throat for around the next 3 days, and I also had to prepare for Krita sprints happening next week.
So what I have managed to add is an options widget to the tool, which somewhat looks like this,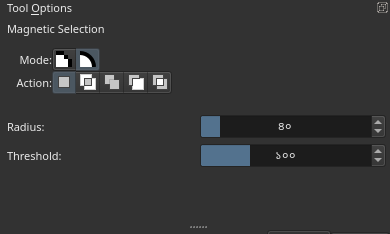 where radius determines the search area and threshold, the bar of determining how clear the edge is. And now I have to fix the bugs, polish out the checkpoint procedure, implement a cursor change on hover over the initial point, and also add some new cursors.
But honestly the most exciting part is the sprint, that I am going to attend, cause this will be the first time, I will be going on a solo trip, that too out of the country and second I am going to meet the people with whom I have been chatting with, for the last year, 😆.
But before that, ILUGD is celebrating CircuitPython Day this Sunday, will talk more about that the coming week along with the sprint, till then, :wq